How Collaborating With Customers Can Fuel Innovation
If you are a regular traveler by air, especially in and through Europe (or even if you don't travel), it's certain you are familiar with KLM.
If you are a regular traveler by air, especially in and through Europe (or even if you don't travel), it's certain you are familiar with KLM, one of the oldest airlines in the world. What many might not know is that KLM has been quite successful in driving innovation within its organization.
A few years back, KLM opened up a gate that allowed passengers to come up with new solutions around the airline's offerings. This gate, known as 'X-gate', was a boarding gate for airline passengers in Schiphol Amsterdam. X-gate allowed passengers waiting for their flights to explore possible solutions aimed at improving the airline's offerings. The goal of this initiative, which was to improve customers' experiences, has so far garnered immense success, encouraging collaboration between the airline and its customers.
KLM's initiative clearly shows that when companies collaborate with their customers, there is a huge opportunity for innovation to occur. Most times this provides incredibly viable solutions for the businesses, solutions that are also desired by the customers who happened to be co-creators themselves (read more about the impact here). Other examples include Unilever's Open innovation platform, Co-create IKEA and Coca-Cola's KOlab to name a few. With this great opportunity that exists in such a collaboration, how can your company leverage this? Here are a few ways:
1. By developing a user-friendly framework. This framework might be used internally by your company. An example of a framework could be your internal system or process for developing ideas, this could incorporate the use of popular processes like Design Thinking, Design Sprints or whichever is works best for your team. For the team at KLM they used a framework called the 'KLM way' having a flow from Data – Sherlock – Mickey Mouse and Lego, which are various phases which customers go through as they build on their idea.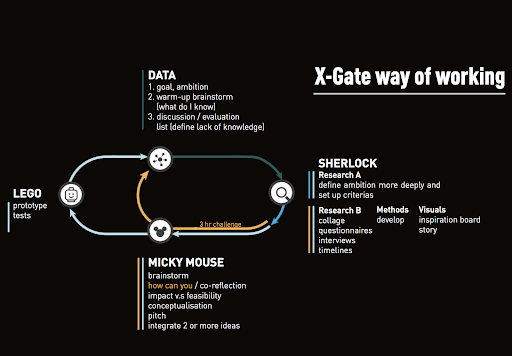 However, it is good to note that because customers might not be quite conversant with the framework (as used internally), it is important to simplify these processes enough to allow customers to use them easily without the need for expert assistance. To do this you could hire expert designers or get your internal team to walk on a way of breaking down the framework into bits customers can easily pick up or use as they build their ideas.
2. By setting the scope for what you're asking customers to collaborate on. Because it is important that the customers complete the process of conceptualization, it is important that whatever they are building can easily be built on the spot, not needing to be taken through any complex process for development.
3. By setting up collaborative centres that afford you the opportunities to locate and engage the right audience to collaborate with. This encourages participation from customers and makes them more willing to help out, as they don't have to go out of their way to share their ideas and opinions. As customers participate, ensure that all they need for co-creating alongside is available and if not, find a way to make those items (like cardboards, scissors, pens, papers, etc) available for their convenience.
4. By Incentivizing them. Considering the fact that you aren't paying them for collaborating with your team, you can look out for little things you can do to motivate them. Could you share their stories and give them recognition on your blog or social media channels? Could you extend discounts to them? These are some suggestions to encourage customers to participate in your collaborative sessions.
5. By being open-minded, ready to learn and adapt to new things. It will be a shame if customers bring in great ideas with potential and they're overlooked.
Having customers try to solve challenges they experience around your offerings will be a great way for your team to discover opportunities that appeal to your customers. This gives you an opportunity to improve your offering and in doing so improve customer experience and gain brand loyalty.