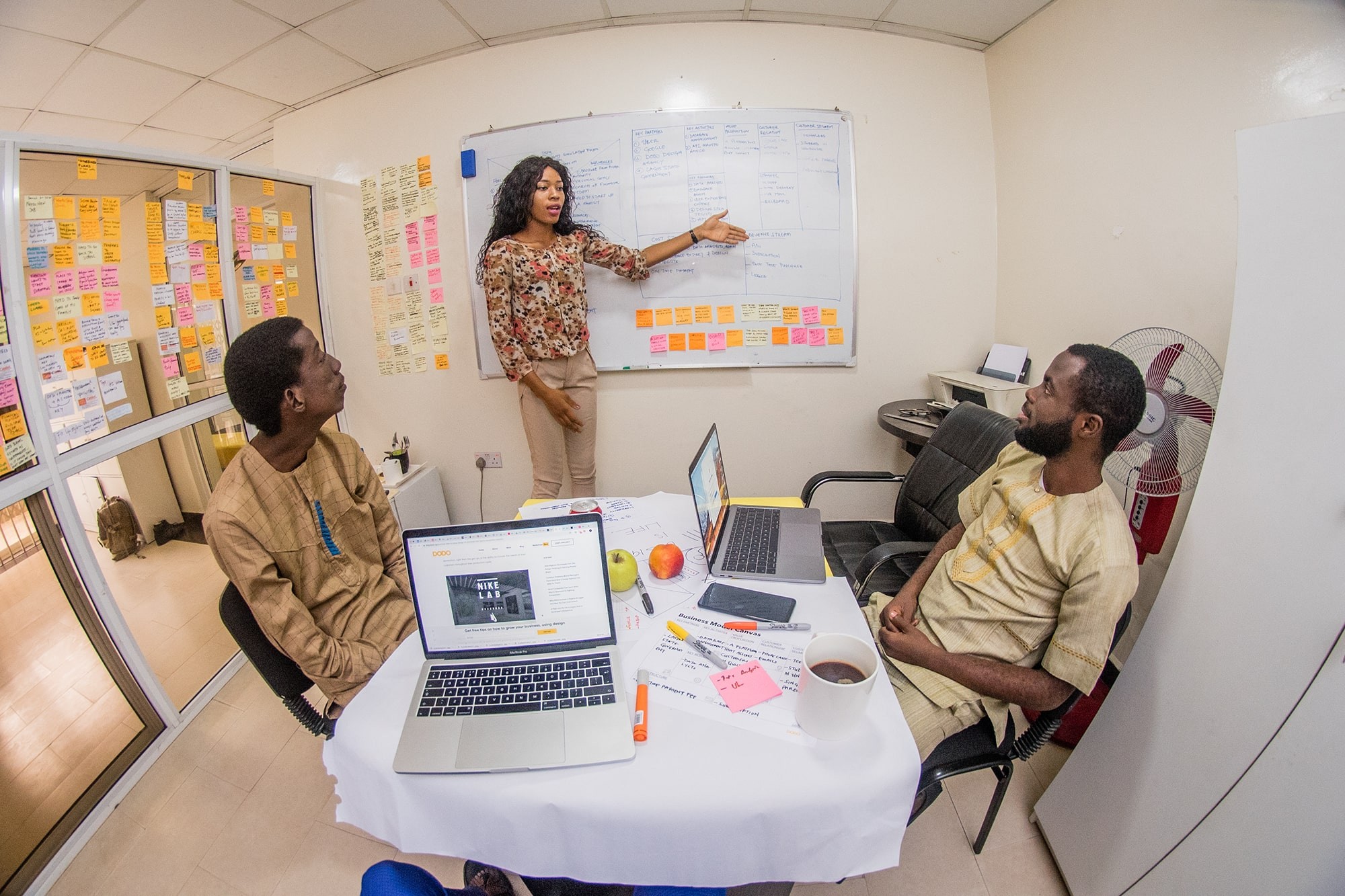 Tools You Need for More Productive Meetings
Meetings are very important for any business to exist, however, they could also be a major time killer, especially if there are no results to show for all that meeting time.
What was the longest meeting you've ever sat in? How productive would you say it was? No doubt, meetings are very important for any business to exist, however, they could also be a major time killer, especially if there are no results to show for all that meeting time.
As your team seeks to work more efficiently and deliver increasingly better results, there is a need to find ways to reduce time wasters and speed up productivity.
Recently our team carried out a workshop with the digital team of a Bank. We worked with them to show how they could leverage design methodologies to drive efficiency and push for more innovative solutions in their department.
As we like our workshops to be more practical, we had them divide into 2 small groups of about 8 each, and then select in the area of products solution and processes, issues they wanted to tackle.
We introduced them to an effective process that helps teams tackle obstacles and move forward with feasible next steps from a meeting.
We call the method, Mountains and Valleys or the Decision-making Tool.
The Mountains and Valleys Tool is a tool that can be used to address many of the challenges around a product or process (or anything else really) effectively, resulting in solutions that can be implemented quickly.
We've broken the process into simple steps so you and your team can use it to ensure your next meeting is productive.
First, decide on what you want your outcome to be…
Seeing the team's overall goals, we had the team focus on two areas, on their product and internal processes. Due to the large number of team members that were present, we divided the team into two groups, one group focused on product, the other on process. When that was done, we had the team decide on a specific challenge in the area they chose. For the process team, for instance, the focus area was easily onboarding new customers onto the digital platform.
Side note: Within each team, we identified the 'deciders' for each group. 'Deciders' are people designated to ultimately select what option or direction the team will move forward with. Now in a creative setting, having a superior or 'Oga' deciding which way a team should go is heavily frowned upon, reason being that for the best idea to win, the team has to be objective in their selection. However, in sessions like these, where the team has got to keep moving, a Decider is needed should the team reach a tie when voting on ideas or next steps. This is to ensure the team doesn't get bogged down with arguments and are able to move on a way forward quickly.

Next find what helps the team, 'move up the mountain' (meaning what helps the team progress)
When the objective is agreed upon and noted, in this case it's: easily onboarding new customers onto the digital platform, members of the team wrote down on post-its, the things that were currently working well with the status quo. Here, team members write down things they are doing that is pushing them, 'up the mountain, or helping them achieve their ultimate goal – which, in this case, was to easily have new customers onboard and start using their app.
This step is important because it helps the team identify hidden motivators that encourages team productivity. This also helps other team members see what other members see as motivation.
With that done and all positive things written posted on the Mountainside of the tool, we moved to the next stage, the Valleys, or challenges stopping them from achieving.
Then note down the challenges
Having found things that what was pushing the team forward and up the 'mountain', we asked the team to write down things that were holding them back, things that were keeping them in the valley. The team wrote as many things as they could think of that were holding them back from reaching their ultimate goal.
Next, the team voted to select the most pressing challenge they felt needed to be addressed.
And then we started Ideating…
After the team voted, the most voted challenge was then converted into a How Might We (HMW) statement.
For those who are new to the process of Design Thinking, a HMW statement helps to frame a problem into a question that helps teams to come up with a wide range of ideas.
How Might We statements are broad enough to have us imagine a wide variety of solutions, however they're not too focused that they limit our ideas.
Essentially, they're good for coming up with a large quantity of out-of-the-box ideas.
To put it more practically, let's say a team is faced with the challenge of not getting enough new customers, possibly due to their service structure:
A narrow (and incorrect) HMW, would be –> " How might we gain new customers using our digital platforms"
A broad (and incorrect) HMW, would be –> " How might we gain new customers"
An appropriate HMW statement could be–> "How might we structure our services to attract new customers".
Then, in answer to the How Might We (HMW) question, the team wrote down as many ideas as they could think of, within the given time, we gave them about 5 minutes.
Now, vote on the winning ideas
After all the ideas were gathered, we had the team vote on the winning solutions. The top 5 solutions were selected and placed against the effort-impact scale to help the team identify the solution that would have the most impact but would require a small amount of effort from the team when implemented.
After selecting the solution with the highest impact and lowest amount of effort i.e. the solution that will require the lowest amount of resources (time, money, people) yet deliver the best possible result. We then moved to the implementation stage.
At this stage, teams map out all the necessary details needed for execution using the implementation map.
This points the team to the next steps, identifying the why, what, who, and when of the solution to be implemented.
Typically, teams come out of the ideation phase, with a lot of great ideas but very few of them are ever accomplished or see the light of day.
This has left most teams with a graveyard of solutions with huge potential for growth, market disruption, profitability and more.
This is a major area that the Implementation tool and the entire decision-making exercise is built to tackle.
Download the Mountains and Valleys tool here.
You can find some of our other tools and resources here. Also, if you're needing assistance with improving your team's work processes or developing more innovative solutions, contact us to find out more about our workshops.
Don't forget to like, share and leave your comments. Thanks.